Common risks in the work environment during building and civil engineering work
Here you can find information about risks for health and safety that often can occur during construction work.
The risks should be assessed and measures must be taken to prevent the serious risks. Not all risks in the work environment must be described in the Work Environment Plan, but nothing hinders that all work with risks and their measures are described in the plan.
Risks in the organisational and social work environment
Risks with dangerous chemical and biological substances
There are a number of work operations that entails so serious risks for health or safety that a Work Environment Plan in required if any of the works will be conducted in the construction project. For those of the risks that will be conducted, there must be measures descirbed in the Work Environment Plan. You can read more about those risks here:

Work with risks that requires a Work Environment Plan


Falling objects
Areas where there is a risk of falling objects should be cordoned off and marked in some way. If such area must be entered, overhead cover, covered walkways, or the equivalent should be arranged.
Equipment and installations
Fire appliances, alarm systems, electrical wiring, junction circuits, traffic devices, safety nets and warning lights, among other things, should be regularly checked and maintained. If a shortcoming that could entail serious danger for safety and health is discovered during the checks, work should immediately be stopped.
Weather and wind
During outdoor work, the employees should be protected against weather and wind etcetera, which can have a negative impact on their health and safety. This can mean hard gusts of wind, extreme heat or cold, heavy or cold rain, or heavy snowfall. A good protection measure is sheeting of the workplace with climate protection. It is important that this protection is satisfactorily dimensioned and anchored against the snow and wind loads to which it can be subjected. Climate protection is often placed over a facade scaffold, and must thus be dimensioned with respect to the extra loads that the weather protection transfers to the scaffold.

Long term or intensive exposure to sunlight can also be dangerous. Think also about the risk of lightning.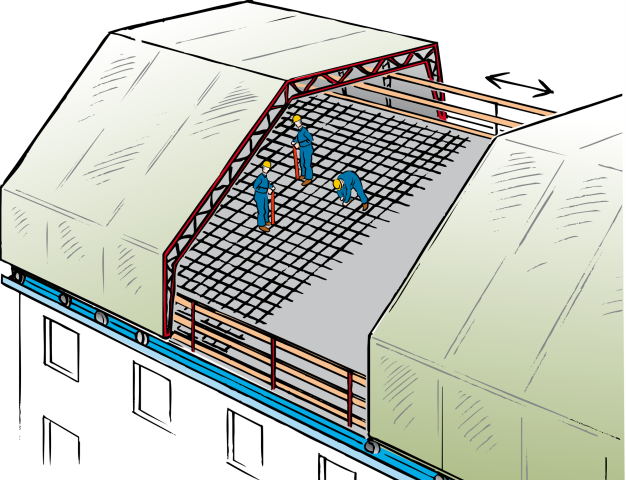 Enclosing with weather protection.