Work with heavy building components
Many buildings and facilities are today erected with the help of prefabricated elements in concrete, steel or wood. This kind of construction often goes more quickly than building everything from start on site, but entails a number of safety risks during installation. Many serious accidents and near-accidents occur.
The work therefore demands thorough planning of all stages, from the design of each individual element in the factory to the completion of the building on site.
The work must be led by a competent person
Launching, assembly or dismantling of heavy prefabricated elements or heavy shuttering elements must always be led by a person with specific competence. This means that the person must have customised experience and knowledge about the actual construction of steel, concrete or wood as well as relevant health and safety knowledge.
Descriptions of preventive measures for the work
Work involving the launching, assembly and dismantling of heavy prefabricated components or heavy shuttering elements requires that preventive measures are described in a Work Environment Plan. The descriptions can be about how the elements should be designed and transported to the construction site, lifted and intermediate stored there and what stabalization measures are needed. The descriptions may need to include a drawing and in that case it is important that the drawing is done by someone that is aware of how the construction can be assemled in a safe way. Often the structural designer is the most appropriate person. Preventive measures can be described by establishing an installation plan.
The installation plan can for example include the following information:
A description of the project with information about who has overall responsibility and who is responsible for different parts in the assembly. There should also be information about different suppliers and contact persons.


A description of the assembly site with a description of areas to be cordoned off, storage areas, transports etcetera.


A description of the element's assembly order, markings on the elements and their weights.


Descriptions of hoisting, for example embedding, how the elements may be lifted and what hoisting equipment is chosen for different elements


Descriptions of how hoisting equipment will be checked, who may carry out the coupling, and who has documented training.


Detailed description of how the assembly will be carried out, with:
- instructions about how the fixed fall protection should be mounted, and which type of guard rails should be used
- use of work equipment such as scaffolding, skylift or another type of work basket etcetera, as well as that this work equipment should be inspected, and may only be used and built by staff with documented training
- how and which personal fall protection equipment should be used when no other choice is possible
- what attachment points should be used for personal fall protection equipment and what loads they can endure
- that there is a plan for the evacuation of someone in distress after a fall in personal protective fall equipment.



Stabilizing measures of the temporary construction with information about where and which type of support the construction demands as well as how long this support should be in place.


How intermediate storage of the elements may be done and where it is possible.


Who has established and approved the assembly plan, such as responsible structural designer and responsible assembly manager, and their contact details. The plan should be dated and signed.


Current assembly execution in a, for the employees understandable, language so that no misunderstanding arises. Observe that the respective employers always have responsibility for their own staff.
Work with lifting devices and lifting equipment
On the construction site, where there often are many different contractors present on different places, hoists need to be coordinated and the risks must be assessed. Someone should be designated as responsible for planning and conducting lifting operations where representatives from different businesses are involved. It is important to, as far as possible, avoid lifting over persons.

If several lifting devices can reach each others lifting radiuses, special planning is required. Certain technical or organizational measures that stop the cranes from reaching each other can be necessary. Sometimes hoists at two nearby constuction sites must be coordinated in a similar way.

The persons conducting lifting operations and connect loads must have a certain training and need to be able to communicate.

In Sweden we have more demands on inspections of kifting devices than in many other countries in the EU. That is good to know for a foreign contractor with their own equipment.
Storage and arrangement of materials
Serious accidents can occur if stored or stacked building material starts to move. If there are such risks, the building products should be stabilized. Measures can also be necessary during work with building products or equipment that contains stored energy. This can, for example, apply to tension reinforcement and spring-loaded doors. Consider that anchoring of building materials etcetera must be able to cope with high winds.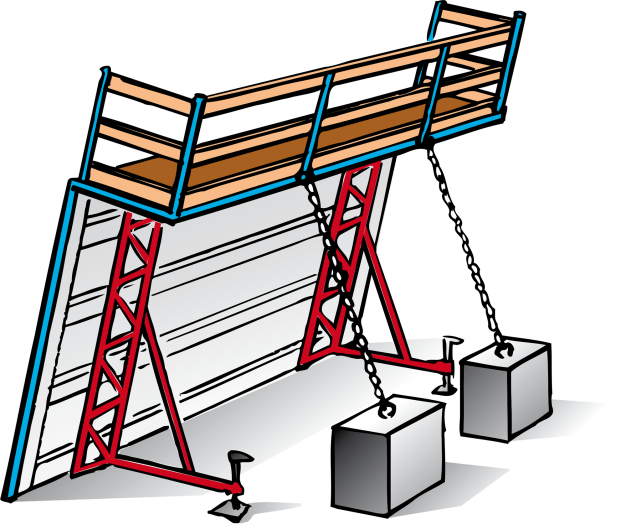 Anchoring during temporary erections. Think about the effects of wind.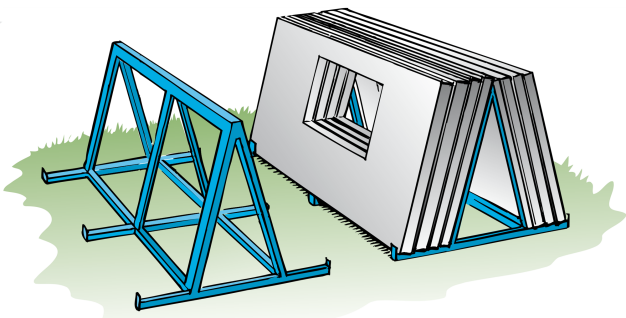 Structural support for safe erection of, for example, concrete elements so that collapse and slippage is prevented.
Serious accidents and near-accidents
Several very serious accidents have occurred in connection with the assembly of prefabricated structures, often during lifting operations, when prefabricated element has fell over or a person have fallen from a height. One cause can be deficient coordination of the work. It is not unusual that there is a long chain with different structural designers, suppliers and contractors involved. There can be one business who constructs steel, another concrete, one who assembles steel, another who assembles the parts in concrete and so on.
The fact that there are many different businesses involved have, in some cases, created an unclear structure regarding who is responsible for what. It is necessary that someone takes an overall responsibility for the different structures and assemblies, from the beginning to the end, so that a safe installation can be carried out.
It is the client who has the utmost responsibility to see to that the coordination between the designers and contractors is working. The building work environment coordinator for the planning and design phase (Bas-P) should coordinate the designers. The building work environment coordinator for the construction phase (Bas-U) should coordinate the contractors. The two coodinators should also coordinate themselves with the other so that the erection of the building or structure can be performed in a safe way.