Robbery, threats and violence in shops
Working in a commercial shop is not always safe. Shops are vulnerable to robberies and threatening incidents.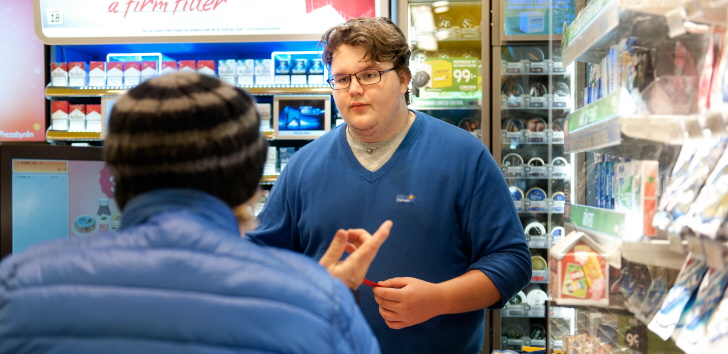 Individual customers can also make a workplace unsafe. It is important that the employer carries out risk assessments:
How are the premises and the technical equipment designed?
What kind of alarm and safety procedures do we have?
What instructions do we have and what knowledge do the employees have?
Do all the staff, including the temporary staff, know about the safety procedures?
Is there the possibility of quickly receiving help in a threatening situation?
Does the shop have the readiness to take care of robbery victims if the staff should be subjected to a robbery?
Make the shop as secure as possible
It is important to make the shop as safe and secure as possible. One can sometimes need to look over:
the location and design of the shop
the equipment on the premises
lighting, the line of vision at the customer entrance, staff entrance and goods entrance
cash handling at the cash register
whether cash box or closed cash handling is needed
a place for counting cash
locking devices on doors and cashboxes
procedures for closing and opening
alarm possibilities for quickly receiving help in a violent or threatening situation.
Make storage areas and staff entrances safe
Storage space and staff entrances are particularly important areas. The staff should be able to feel sure that they will not be surprised by strangers in storage areas. Make sure therefore that trespassers cannot go unnoticed from the shop to areas behind it, or the storage area. Openings and doors must be lockable or equipped with some other device that means that trespassers cannot gain entry without being noticed.
Make sure that there is a clear line of sight around the staff entrances so that there are no places where unauthorised persons can hide. Have good lighting so that there are no dark areas around the entrance. In many cases the main entrance is a better place for leaving the premises because there often are more windows to look through.
Have a safe system for the handling of cash
Keep money in a lockable safe and see that there are rules for how much money may be in the cash box. If there are employees under 18 years of age it is not appropriate that they have sole responsibility for money.
One alternative to regular petty cash with a note box for larger sums of money, is closed cash handling. In these cases the cashier does not handle money at all, which can reduce the risk of robbery.
Vary the procedure for withdrawing and depositing of money
When you withdraw and deposit money it is important to vary the means of transport and the times, because this makes it more difficult for someone to chart the shop's routines. It can also feel safer to always do it in twos. When you count cash, it is appropriate that it happens in a space where no one can look in and which has a lockable door with a peephole, so that the door is not opened to the wrong person.
Have preparedness for taking care of robbery victims
In the shop you should have procedures for how you should react after, for example, a robbery. It is important that the staff can quickly receive help if they are subjected to a robbery or a threatening situation. One often needs support immediately after the incident, but one can also have a delayed reaction, which means that one can need help after some time has passed.