Department of Joint Authority Control
The departments main task is to coordinate the joint authority controls that combats fraud, violations of statures and crime in the working life. It is partly in charge of the registry of posting of foreign workers.
The department is also in charge of
The operative work that is a part of the EU-commissions platform against undeclared work.
Coordination of the Swedish Work Environment Authorities mission as the qualifying authority of aid in accordance to the postings law.
Administration of matters that follows the Swedish Work Environments Authority's function as liaisons office according to the postings law.
Control of the postings registry as well as administration and decision making regarding sanction fees connected to posting.
The EU Information system for the inner market, IMI, in which we may ask and answer questions regarding posting from other EU and EES countries.
Administration and decision-making regarding state funds for the labour market parties to encourage knowledge sharing and cooperation with government agencies for the purpose to counter crime and other violations in the working life.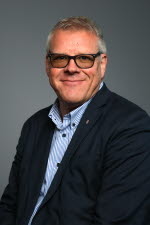 Head of Department (Joint Authority Control)
Arne Alfredsson
Phone: 010-730 90 00