Risks in forestry
There are many risks associated with working in forestry. For example, you could be hit by falling objects or be crushed.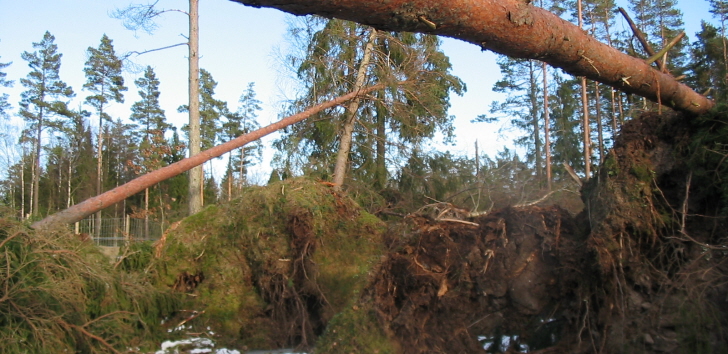 Particularly unsafe/dangerous areas within forestry
Particularly risky areas are falls from height and chainsaw accidents related to manual lumbering. In addition, the processing of storm-felled forest entails greater risks than normal logging.
Falls from height
Every fourth accident in forestry occurs because the person falls on slippery surfaces, usually because of ice and snow. If tree clearing is done on a slope, the risk increases further. One can even risk a falling accident if, for example, one is standing on the wheel of a forwarder in order to turn off a wheel band lock.
Chainsaw accidents
Chainsaw accidents account for 17 per cent of all accidents. The accidents are usually due to a person being struck by the saw blade or by trunks and branches splitting when working with a chainsaw. For example, if the saw blade was thrown up against the face, or if a trunk breaks and presses the chainsaw against the foot.
If something happens
If an accident occurs, it is essential that you have knowledge of first aid, in other words the assistance that you need to carry out immediately if a person is injured or becomes acutely ill.
First aid can mean
keeping a person alive up until the ambulance arrives
flushing the eyes immediately if someone has received splashes of a corrosive substance
ensuring that the injured or sick person receives care.
Checklist for a safe workplace
Here is a checklist of questions to which you should be able to answer yes:
Do you have first aid equipment, such as first-aid kit and equipment for eye washing?
Do you have knowledge of first aid in terms of Breathing, Bleeding, Shock?
Can you call for quick help in an emergency?
Can an ambulance easily locate the scene of the accident, for example, by using coordinates or a map sketch?
Report occupational injuries, incidents and accidents
Now you can report work-related injuries, incidents and accidents immediately online. Report at www.anmalarbetsskada.se. There you can fill in the information both to the Swedish Work Environment Authority and the Swedish Social Insurance Agency. The notification must be made in consultation with the safety representative.