The Nordic Expert Group
The Nordic Expert Group - a Nordic collaboration for production of criteria documents on chemicals for occupational exposure limits.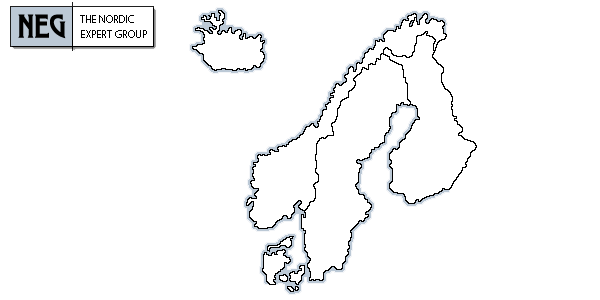 The Nordic Expert Group for Criteria Documentation of Health Risks from Chemicals (NEG) consists of scientific experts from the Nordic countries representing different fields of science, such as toxicology, occupational hygiene and occupational medicine. The main task is to produce criteria documents to be used by the regulatory authorities of the Nordic countries as the scientific basis for setting occupational exposure limits (OELs) for chemical substances. Thus, the actual setting of an OEL is a national concern.
NEG is mainly financed by the Swedish Work Environment Authority and the Norwegian Ministry of Labour and Social Affairs. All countries contribute with scientific expertise. The documents, written in English, are published by the University of Gothenburg in the scientific serial Arbete och Hälsa. The documents are also available as pdf downloads via this website under Publications.
The decision to produce a document is mainly based on requests from the Nordic regulatory authorities. The availability of scientific data, recently published criteria documents and ongoing activities at the international level are also considered.
The responsibility of preparing a document is allocated to a scientist in one of the Nordic countries.
NEG has a bilateral co-operation with US NIOSH and the Dutch Expert Committee on Occupational Safety (DECOS).
New criteria document
Approaches for the setting of occupational exposure limits (OELs) for carcinogens, opens in a new window
Occupational chemical exposures in combination with unusual working hours, opens in a new window
Annual report 2022
NEG Annual report 2022, in Swedish (pdf, will open in a new window)
Publications
Published documents (click to expand)
Publications

| No | Substance | Year:Issue | Lang. |
| --- | --- | --- | --- |
| 155 | Substance: Occupational chemical exposures in combination with unusual working hours | 2023;57(2) | Eng |
| 154 | Approaches for the setting of occupational exposure limits (OELs) for carcinogens, English | 2022;56(2) | Eng |
| 153 | Occupational chemical exposures and cardiovascular disease, English | 2020;54(2) | Eng |
| 152 | Inorganic chloramines, English | 2019;53(2) | Eng |
| 151 | Occupational skin exposure to chemicals, English | 2018;52(3) | Eng |
| 150 | Silicon carbide, English | 2018;52(1) | Eng |
| 149 | Diesel engine exhaust, English | 2016;49(6) | Eng |
| 148 | Carbon nanotubes, English | 2013;47(5) | Eng |
| 147 | Carbon monoxide, English | 2012;46(7) | Eng |
| 146 | Polychlorinated biphenyls (PCBs), English | 2012;46(1) | Eng |
| 145 | Aluminium and aluminium compounds, English | 2011;45(7) | Eng |
| 144 | Endotoxins, English | 2011;45(4) | Eng |
| 143 | Photosphate triesters with flame retardant properties, English | 2010;44(6) | Eng |
| 142 | Occupational exposure to chemicals and hearing impairment, English | 2010;44(4) | Eng |
| 141 | Isoflurane, sevoflurane and desflurane, English | 2009;43(9) | Eng |
| 140 | Sulphuric, hydrochloric, nitric and phosphoric acids, English | 2009;43(7) | Eng |
| 139 | Fungal spores, English | 2006:21 | Eng |
| 138 | Microbial volatile organic compounds (MVOCs), English | 2006:13 | Eng |
| 137 | Ammonia, English | 2005:13 | Eng |
| 136 | Cyclic acid anhydrides, English | 2004:15 | Eng |
| 135 | gamma-Butyrolactone, English | 2004:07 | Eng |
| 134 | Penicillins, English | 2004:06 | Eng |
| 133 | Tetrachloroethene, English | 2003:14 | Eng |
| 132 | Formaldehyde, English | 2003:11 | Eng |
| 131 | Lithium and lithium compounds, English | 2002:16 | Eng |
| 130 | Tin and inorganic tin compounds, English | 2002:10 | Eng |
| 129 | Chlorotrimethylsilane, English | 2002:02 | Eng |
| 128 | Triglycidyl isocyanurate, English | 2001:18 | Eng |
| 127 | Hydrogen sulphide, English | 2001:14 | Eng |
| 126 | 1,2,3-Bensotriazole, English | 2000:24 | Eng |
| 125 | Toluene, Swedish | 2000:19 | Swe |
| 124 | Thermal degradation products of polyethylene, polypropylene, polystyrene, polyvinylchloride, and polytetrafluoroethylene in the processing of plastics, English | 1998:12 | Eng |
| 123 | Antimony, English | 1998:11 | Eng |
| 122 | Dichlorobenzenes, Swedish | 1998:20 | Swe |
| 122 | Dichlorobenzenes, English | 1998:04 | Eng |
| 121 | Refractory Ceramic Fibres, Norwegian | 1998:20 | Nor |
| 121 | Refractory Ceramic Fibres, English | 1996:30 | Eng |
| 120 | Flour dust, Swedish | 1998:20 | Swe |
| 120 | Flour dust, English | 1996:27 | Eng |
| 119 | Nickel and nickel compounds, Swedish | 1995:27 | Swe |
| 119 | Nickel and nickel compounds, English | 1995:26 | Eng |
| 118 | Cyanoacrylates, Swedish | 1995:27 | Swe |
| 118 | Cyanoacrylates, English | 1995:25 | Eng |
| 117 | Propene, Swedish | 1995:27 | Swe |
| 117 | Propene, English | 1995:07 | Eng |
| 116 | Glyoxal, Swedish | 1995:27 | Swe |
| 116 | Glyoxal, English | 1995:02 | Eng |
| 115 | N-Methyl-2-pyrrolidone (NMP), Swedish | 1994:42 | Swe |
| 115 | N-Methyl-2-pyrrolidone (NMP), English | 1994:40 | Eng |
| 114 | Cobalt and cobalt compounds, Danish | 1994:42 | Dan |
| 114 | Cobalt and cobalt compounds, English | 1994:39 | Eng |
| 113 | 1,3-Butadiene, Swedish | 1994:42 | Swe |
| 113 | 1,3-Butadiene, English | 1994:36 | Eng |
| 112 | 2-Ethylhexanoic acid, Swedish | 1994:42 | Swe |
| 112 | 2-Ethylhexanoic acid, English | 1994:31 | Eng |
| 111 | Industrial enzymes, Swedish | 1994:42 | Swe |
| 111 | Industrial enzymes, English | 1994:28 | Eng |
| 110 | Diethylamine, Diethylene-triamine, Dimethylamine, Ethylenediamine, Swedish | 1994:42 | Swe |
| 110 | Diethylamine, Diethylene-triamine, Dimethylamine, Ethylenediamine, English | 1994:23 | Eng |
| 109 | Diesel exhaust, English | 1993:35 | Eng |
| 109 | Diesel exhaust, Swedish | 1993:34 | Swe |
| 108 | Ethylenebisdithiocarbamates and ethylenethiourea, English | 1993:35 | Eng |
| 108 | Ethylenebisdithiocarbamates and ethylenethiourea, Swedish | 1993:24 | Swe |
| 107 | Limonene, English | 1993:35 | Eng |
| 107 | Limonene, Swedish | 1993:14 | Swe |
| 106 | Crystalline silica, English | 1993:35 | Eng |
| 106 | Crystalline silica, Norwegian | 1993:02 | Nor |
| 105 | Aluminium, English | 1993:01 | Eng |
| 105 | Aluminium, Swedish | 1992:45 | Swe |
| 104 | Lead, inorganic, English | 1993:01 | Eng |
| 104 | Lead, inorganic, Swedish | 1992:43 | Swe |
| 103 | Selenium, English | 1993:01 | Eng |
| 103 | Selenium, Swedish | 1992:35 | Swe |
| 102 | Inorganic acid aerosols, English | 1993:01 | Eng |
| 102 | Inorganic acid aerosols, Norwegian | 1992:33 | Nor |
| 101 | Cadmium, English | 1993:01 | Eng |
| 101 | Cadmium, Swedish | 1992:26 | Swe |
| 100 | Acrolein, Danish | 1991:45 | Dan |
| 99 | Microorganisms, English | 1991:50 | Eng |
| 99 | Microorganisms, Swedish | 1991:44 | Swe |
| 98 | Trichloroethene, English | 1991:50 | Eng |
| 98 | Trichloroethene, Norwegian | 1991:43 | Nor |
| 97 | Dimethylsulfoxide, English | 1991:50 | Eng |
| 97 | Dimethylsulfoxide, Danish | 1991:37 | Dan |
| 96 | Dimethylethylamine, English | 1991:50 | Eng |
| 96 | Dimethylethylamine, Swedish | 1991:26 | Swe |
| 95 | Isophorone, English | 1991:50 | Eng |
| 95 | Isophorone, Swedish | 1991:14 | Swe |
| 94 | Inorganic arsenic, English | 1991:50 | Eng |
| 94 | Inorganic arsenic, Swedish | 1991:09 | Swe |
| 93 | Styrene, English | 1991:02 | Eng |
| 93 | Styrene, Swedish | 1990:49 | Swe |
| 92 | Organic acid anhydrides, English | 1991:02 | Eng |
| 92 | Organic acid anhydrides, Swedish | 1990:48 | Swe |
| 91 | N-Nitroso compounds and cancer, English | 1991:02 | Eng |
| 91 | N-Nitroso compounds and cancer, Norwegian | 1990:33 | Nor |
| 90 | Welding gases and fumes, English | 1991:02 | Eng |
| 90 | Welding gases and fumes, Swedish | 1990:28 | Swe |
| 89 | Thiurams and dimethyl dithiocarbamates, English | 1991:02 | Eng |
| 89 | Thiurams and dimethyl dithiocarbamates, Swedish | 1990:26 | Swe |
| 88 | Paper dust, English | 1989:37 | Eng |
| 88 | Paper dust, Swedish | 1989:30 | Swe |
| 87 | Methyl formate, English | 1989:37 | Eng |
| 87 | Methyl formate, Swedish | 1989:29 | Swe |
| 86 | Acetonitrile, English | 1989:37 | Eng |
| 86 | Acetonitrile, Swedish | 1989:22 | Swe |
| 85 | Nitrilotriacetic acid and salts, English | 1989:37 | Eng |
| 85 | Nitrilotriacetic acid and salts, Danish | 1989:16 | Dan |
| 84 | Hydroquinone, English | 1989:37 | Eng |
| 84 | Hydroquinone, Swedish | 1989:15 | Swe |
| 83 | Diacetone alcohol, English | 1989:37 | Eng |
| 83 | Diacetone alcohol, Swedish | 1989:04 | Swe |
| 82 | Toluene, English | 1989:37 | Eng |
| 82 | Toluene, Danish | 1989:03 | Dan |
| 81 | Nitroalkanes, English | 1988:33 | Eng |
| 81 | Nitroalkanes, Swedish | 1988:29 | Swe |
| 80 | Vinyl acetate, English | 1988:33 | Eng |
| 80 | Vinyl acetate, Swedish | 1988:26 | Swe |
| 79 | Methyl isobutyl ketone, English | 1988:33 | Eng |
| 79 | Methyl isobutyl ketone, Swedish | 1988:20 | Swe |
| 78 | Creosote, English | 1988:33 | Eng |
| 78 | Creosote, Swedish | 1988:13 | Swe |
| 77 | Wood dust, Danish | 1987:36 | Dan |
| 76 | Methylene chloride, English | 1987:40 | Eng |
| 76 | Methylene chloride, Swedish | 1987:29 | Swe |
| 75 | n-Decane and n-Undecane, English | 1987:40 | Eng |
| 75 | n-Decane and n-Undecane, Danish | 1987:25 | Dan |
| 74 | Methyl bromide, English | 1987:40 | Eng |
| 74 | Methyl bromide, Swedish | 1987:18 | Swe |
| 73 | Arsine, Norwegian | 1986:41 | Nor |
| 72 | Acetone, Danish | 1986:39 | Dan |
| 71 | Ammonia, Norwegian | 1986:31 | Nor |
| 70 | Ozone, Swedish | 1986:28 | Swe |
| 69 | Acetaldehyde, Norwegian | 1986:25 | Nor |
| 68 | n-Hexane, Danish | 1986:20 | Dan |
| 67 | Ethyl benzene, Swedish | 1986:19 | Swe |
| 66 | Vinyl chloride, Norwegian | 1986:17 | Nor |
| 65 | Allyl alcohol, Swedish | 1986:08 | Swe |
| 64 | White spirit (mineral spirit, Stoddard solvent), Danish | 1986:01 | Dan |
| 63 | Cyclohexanone Cyclopentanone, Swedish | 1985:42 | Swe |
| 62 | Ethylene glycol monoalkyl ethers+acetates, Swedish | 1985:34 | Swe |
| 61 | Deodorised kerosene, Danish | 1985:24 | Dan |
| 60 | Propylene oxide, Danish | 1985:23 | Dan |
| 59 | Inorganic mercury, Swedish | 1985:20 | Swe |
| 58 | Diisocyanates, Swedish | 1985:19 | Swe |
| 57 | Oil mist, Norwegian | 1985:13 | Nor |
| 56 | Hydrazine and hydrazine salts, Danish | 1985:06 | Dan |
| 55 | Acrylonitrile, Norwegian | 1985:04 | Nor |
| 54 | Chlorophenols, Swedish | 1984:46 | Swe |
| 53 | Methanol, Norwegian | 1984:41 | Nor |
| 52 | Chloromequat chloride, Swedish | 1984:36 | Swe |
| 51 | Phenol, Danish | 1984:33 | Dan |
| 50 | Benomyl, Swedish | 1984:28 | Swe |
| 49 | Furfuryl alcohol, Swedish | 1984:24 | Swe |
| 48 | Sulphur dioxide, Swedish | 1984:18 | Swe |
| 47 | Halothane, Swedish | 1984:17 | Swe |
| 46 | Petrol (gasoline), Danish | 1984:07 | Dan |
| 45 | Nitrogen oxides, Swedish | 1983:28 | Swe |
| 44 | Propylene glycol, Swedish | 1983:27 | Swe |
| 43 | Methyl ethyl ketone, Swedish | 1983:25 | Swe |
| 42 | Acrylates och methacrylates, Danish | 1983:21 | Dan |
| 41 | Hydrogen fluoride, Norwegian | 1983:17 | Nor |
| 40 | Dihydrogen sulphide, Swedish | 1982:31 | Swe |
| 39 | Asbest, Swedish | 1982:29 | Swe |
| 38 | Dimethylformamide, Swedish | 1982:28 | Swe |
| 37 | Formaldehyde, Swedish | 1982:27 | Swe |
| 36 | Synthetic pyretroids Permethrin, Swedish | 1982:22 | Swe |
| 35 | Refined petroleum solvents, Danish | 1982:21 | Dan |
| 34 | Nitrous oxide, Swedish | 1982:20 | Swe |
| 33 | Vanadium, Norwegian | 1982:18 | Nor |
| 32 | Cobalt, Swedish | 1982:16 | Swe |
| 31 | Phtalates, Swedish | 1982:12 | Swe |
| 30 | Manganese, methylcyclopentadienyl manganese tricarbonyl, Swedish | 1982:10 | Swe |
| 29 | Ethyleneoxide, Swedish | 1982:07 | Swe |
| 28 | Dioxane, Swedish | 1982:06 | Swe |
| 27 | Cadmium, Norwegian | 1981:29 | Swe |
| 26 | Nickel, Norwegian | 1981:28 | Nor |
| 25 | Mineral fibers, Danish | 1981:26 | Dan |
| 24 | Arsenic except arsenic hydride, Swedish | 1981:22 | Swe |
| 23 | MCPA (4-Chloro-2-methyl-phenoxy acetic acid, Swedish | 1981:14 | Swe |
| 22 | Zinc, Swedish | 1981:13 | Swe |
| 21 | Methylchloroform (1,1,1-Trichloroethane), Norwegian | 1980:12 | Nor |
| 20 | Benzene, Danish | 1981:11 | Dan |
| 19 | Epichlorohydrin, Swedish | 1981:10 | Swe |
| 18 | Copper, Norwegian | 1980:21 | Nor |
| 17 | 1-Butanol, Norwegian | 1980:20 | Nor |
| 16 | Hexane, Danish | 1980:19 | Dan |
| 15 | Isopropanol, Swedish | 1980:18 | Swe |
| 14 | Ethylene glycol, Swedish | 1980:14 | Swe |
| 13 | Boric acid and Borax, Swedish | 1980:13 | Swe |
| 12 | Carbon monoxide, Swedish | 1980:08 | Swe |
| 11 | Chlorine, Chlorine dioxide, Swedish | 1980:06 | Swe |
| 10 | Xylene, Swedish | 1979:35 | Swe |
| 9 | Diisocyanates, Swedish | 1979:34 | Swe |
| 8 | Chromium, Norwegian | 1979:33 | Nor |
| 7 | Tetrachloro ethylene, Swedish | 1979:25 | Swe |
| 6 | Lead, inorganic, Swedish | 1979:24 | Swe |
| 5 | Methylenechloride, Swedish | 1979:15 | Swe |
| 4 | Styrene, Swedish | 1979:14 | Swe |
| 3 | Trichloroethylene, Norwegian | 1979:13 | Nor |
| 2 | Toluene, Danish | 1979:05 | Dan |
| 1 | Formaldehyde, Swedish | 1978:21 | Swe |
| | 2-Diethylaminoethanol, English | 1994:25 | Eng |
| | 7/8-Carbon chain aliphatic monoketones (2-heptanone, 3-heptanone, ethylamylketone, methylisoamylketone), English | 1990:02 | Eng |
| | Ethyl acetate, English | 1990:35 | Eng |
| | Ethyl ether, English | 1992:30 | Eng |
| | Glutaraldehyde, Swedish | 1998:20 | Swe |
| | Glutaraldehyde, English | 1997:20 | Eng |
| | Methyl chloride, English | 1992:27 | Eng |
| | Methyl methacrylate, English | 1991:36 | Eng |
| | Methyl-tert-butyl ether, English | 1994:22 | Eng |
| | Platinum, Swedish | 1998:20 | Swe |
| | Platinum, English | 1997:14 | Eng |
| | Propylene glycol ethers and their acetates, English | 1990:32 | Eng |
| | Tetrachloroethane, English | 1996:28 | Eng |