Scaffolding
Sweden has a provision that sets requirements on how scaffolds shall be constructed and designed. There are also requirements as regards training in order to erect, use, alter, and dismantle scaffolds.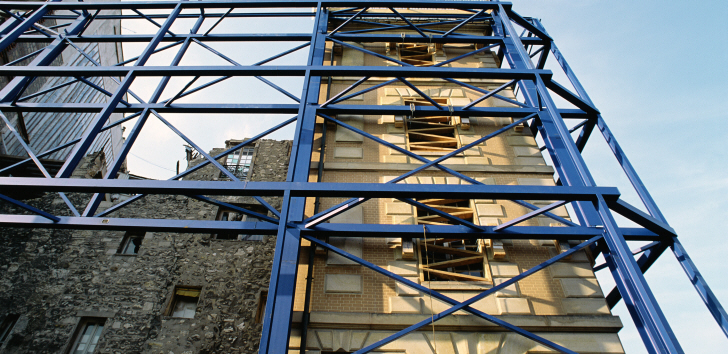 Training is a requirement
In order to erect, significantly alter and dismantle scaffolds, you must have training. If you have received training in your home country which meets Swedish requirements, this training will be accepted. But you must be able to provide a training certificate as proof that you have completed the training course. In addition, you may need to learn the regulations that apply for scaffolding work in Sweden.
It is always the employer that is responsible for ensuring that the personnel have the training required.
Before the work of erecting, using, making significant changes to, or dismantling a scaffold can begin, there must be a written plan for these operations. There is a requirement in the Swedish regulation that the person producing the plan must have sufficient knowledge and experience of scaffold erection to work on the plan so that it can be implemented safely.
The foreman must have training
There are also requirements that relate to the work of erecting, altering and dismantling scaffolds, i.e. they must be led by a competent person with sufficient knowledge and experience of such work. The foreman must have undergone general or special training. The foreman must also have access to the plan before the work is started.
The theoretical knowledge must at least include:
An understanding of plans for the erection, dismantling or alteration of scaffolds
Safety in the erection, dismantling or alteration of scaffolds
Measures to prevent the risk of people or objects falling
Safety measures that need to be taken when the weather changes in a way which adversely affects safety
Conditions as regards permissible loads
Any other risk which the above mentioned work of erection, alteration or dismantling may entail.
... and also those who erect
The person doing the work must have adequate training for the work to be done and the specific risks involved, according to one of the following alternatives:
General training is suitable for those working with scaffolds at a maximum height of 9 metres (four lifts) to the working level and where the design is indicated by a general instruction manual.

Special training is appropriate for those working with more complex scaffolds than those listed above.
Remember the following
If a scaffold is manufactured abroad and is used in Sweden by people other than those employed by the company, such as subcontractors or companies carrying out work at the same worksite, the scaffolding must be type examined by an accredited body.
There must always be instructions on how to erect, use and dismantle along with instructions on how the scaffold should be maintained. The instructions must be available in the languages used by the workers at the workplace.
There must be documentation showing that the scaffold is sufficiently strong and stable at the maximum intended load.
There must be documentation showing that the scaffolding has been checked before it was delivered to be used. These checks are often made jointly by the erector of the scaffold and the person who has ordered i
Swedac website, opens in new window