Stress
Work-related stress arises as a consequence of trying conditions at work. It is a composite problem and takes different manifestations in different occupations and sectors.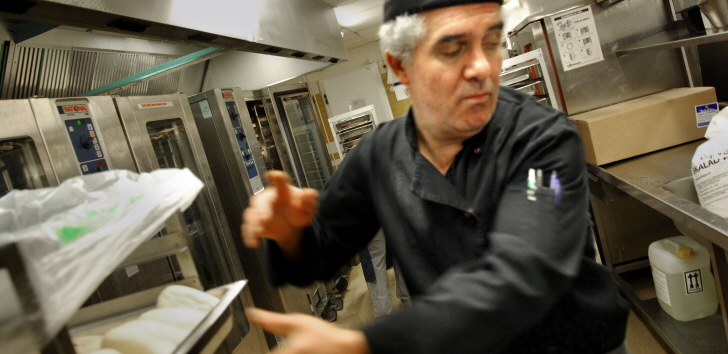 Two conditions in the work environment that can lead to work-related stress are a high workload, and problems affecting the social interplay at the workplace. As an employer, one has a responsibility to create a good work environment and prevent ill health. It is important to prevent or fix conditions that give rise to work-related stress, and create a functioning balance between demands and resources. With the help of systematic work environment management, the employer, together with the safety representative and employees, can prevent work-related stress. It is about investigating and assessing the risks that exist in the work environment, fixing the risks and following up to see that the measures have had the intended effect.
Organisational measures can prevent stress
The employer can prevent work-related stress through organisational measures. It can be about increasing resources to carry out the work, or reducing the demands in the work. That the employer is clear when it comes to operational goals and work demands can prevent the pressures that are connected to ambiguity, and save the employees exhausting extra work. It can also be about changing staffing during solo work or taking security measures where there is a risk of violence. The workload can be reduced by more people helping with a work task or through the employer increasing the number of staff. One can also take away certain work tasks or postpone the carrying out of work. Support in prioritising gives prerequisites to be able to reduce the amount of work when necessary. It is also important that there are clear procedures for how one could react during conflicts and victimisation at the workplace.
Examples of signals of high workload and stress are:
overtime work, that one takes work home, or skips breaks or lunch
high work-intensity over long periods
feelings of inadequacy
lacking motivation, low mood
psychosomatic symptoms: pain, sleep difficulties, digestive problems
low quality or late delivery of work results
sick-listing, absence due to illness
high staff turnover
conflicts, difficulties working with others, victimisation
near-miss incidents and accidents.
Primary risks with stress
Two of the primary risks for work-related stress arising are high workload and problems that affect the social interplay at the workplace. Some other common causes are shift work, working alone and shortcomings in the physical environment.
High workload
Most work entails pressure in the form of demands of one or other type. To be subjected to many demands does not, in itself, cause pressure that leads to something negative for health or well-being. But if the demands exceed the resources existing to fulfil them, and such an imbalance is long-term, it can give rise to harmful effects for the individual. The organisation can also be affected by the negative consequences of an imbalance between demands and resources.
Counted as basic resources for coping with the demands in the work and preventing work-related ill-health are:
sufficient knowledge and experience for the working tasks
possibilities for rest and recovery
support from the surroundings
influence over working conditions.
The balance between demands and resources can be illustrated by weighing scales. If demands increase, the left side of the scale is filled and then one needs to think about adding resources to the right side of the scale, so that the scale is balanced.
The employer needs to make sure that the total burden of demands does not give rise to an unhealthy workload. Demands in the work can come from the content of the working tasks and organisation, or from social contacts. It is important that the requirements in the work are made clear to the employees. Ambiguity around the working tasks creates insecurity and increases the weight in the scales containing the demands. Colleagues' and customers'/clients'/patients' expectations and actions can also give rise to demands. Incorrect or too high expectations on work efforts, mistrust and a bad atmosphere are examples of such demands. Some demands are undesirable and are not based in the goals for the work.
Constant change
Changes in working life are a natural part of the development of working life, and are often both necessary and wanted. Change can, however, also entail significant pressure for the employees, particularly when changes happen often.
How changes are implemented has great significance for whether it has consequences for the employees' health. It is important to, at as early a stage as possible, inform as to why changes are made and how they will be carried out. It is also important that the information is given continually during the whole process of change and that it is collected, clear and factual. Sometimes it can be valuable to speak even if there is no information to give, to quell any unnecessary worry.
In connection with changes in the operations, managers, supervisors, union representatives and safety representatives can end up in mentally demanding conditions due to the many and often contradictory demands that are made by the employers and employees respectively. The work situation of these persons should therefore be given special attention so that they receive the support and the prerequisites they need. The employees' specific experience and knowledge about working conditions is valuable during change and development work. It is important that the employees are offered the possibility to contribute to work with change that affects them.
Insecurity in employment
To work in a precarious employment form entails a special type of pressure that can negatively impact health and wellbeing. In some cases it can reduce employees' tendency to report shortcomings and bring up work environment questions. It can also negatively influence private relationships and restrict options, especially if it lasts over a longer period of time.
Shift work, irregular working hours
Working at night conflicts with man's natural twenty-four hour rhythm and therefore entails a strain on the body. In addition, night work means that one is more tired and the risk of accidents increases. One should, therefore, avoid too-long working shifts, and with three shifts, the order morning – afternoon – night is to be preferred over the opposite. For recovery between two working shifts, 11 hours rest is necessary. After a period with several night shifts, it is important to set in a longer rest period. Too little sleep increases the negative effects of stress, and sleep deprivation it in itself a stress factor that can give rise to ill health.
If an employer is going to work from home, it is important that the employer comes to an agreement with the employer about which conditions will apply. It is, for example, not healthy in the long term to be reachable and prepared to step in all the time, or that free time is constantly interrupted by work. It is therefore important to not unnecessarily disturb staff with questions about work during their free time. A simple, routine telephone conversation can interrupt a recovery cycle and give rise to stress.
Working alone
To carry out work alone can entail a great mental strain, particularly if it is connected to risks, for example violence or harassment. Another condition that can be trying is surveillance work where great value – human and material – is at stake. Working alone can also entail an increased risk of accidents. It is important that there are alarm devices and possibilities to, when necessary, be able to come into contact with management. To prevent ill health, the work must sometimes be organised so that working alone is minimised.
Work with people
Work with people is such that the most important tool is the person, for example health care personnel, social workers and employees within social care. Their working tasks are often engaging but can be demanding, especially if expectations about working efforts are unclear. In combination with a high work tempo, it can entail risks of work-related stress. Measures that can reduce stress are:
regular support of supervisors
double staffing
procedures for dealing with demanding customers or clients
reduced workload.
The physical environment
The design of the physical environment can also form the basis of mental stress. How the premises and interior design look has significance for our well-being, and can facilitate as well as make more difficult, the possibility of contact and cooperation with colleagues. A high noise level reduces our possibilities of communicating with each other and disturbing noise is, in itself, a stress factor. Risks from dangerous substances and machines can mean that we feel pressure, and worry about injury. Work entailing a high risk of accidents can give rise to fear and worry that something will happen.
Conflicts
Stress at work encourages primitive behaviour such as the spreading of rumours, and causes defence mechanisms that can lead to scapegoats being looked for. Victimisation and conflicts that have their basis in the work situation due to too high a workload, unclear expectations of work efforts, receiving few or no reactions on work carried out etc., should be considered a consequence of shortcomings in the work environment. It is important to uncover the conflicts and to investigate and fix the causes thereof.
Your responsibility as employer
You who are an employer are responsible for creating prerequisites for a good work environment without stress. You can prevent risk through systematic work environment management.
When an employee is injured during an accident due to acute overloading at work or develops an occupational illness due to long term overloading, you as an employer need to act. The quicker the measures are put into place, the easier it becomes for the employee to come back to work.
The employer should report serious accidents and incidents to the Swedish Work Environment Authority as quickly as possible. An incident is a happening that could have led to an accident.
There is a website where one can report serious accidents, incidents and occupational injuries in one place. The person who makes the report does not need to think about which legislation the report covers. The Swedish Work Environment Authority and the Swedish Social Insurance Agency have jointly created the website www.anmalarbetsskada.se.
Report occupational injury, website (in Swedish) opens in new window
The employer's responsibility for the work environment
Responsibility for others than the employer
The employee has no formal responsibility but participates in work environment management through, for example, reporting risks, incidents, illness and accidents, suggesting measures and giving opinions on that which has been carried out.
Prevent work-related stress
Work-related stress needs to be dealt with within the framework of systematic work environment management. It is the employer who is responsible for there being systematic work environment management in place.
Systematic work environment management can be described in four steps:
Investigate the work environment.
Assess the risks.
Fix the risks, write an action plan.
Check that the measures have worked.
1. Investigate the work environment
To get at the causes and what lies behind work-related stress, one must make sure that particularly stressful conditions and working tasks are included in the investigation for all employees.
There are many different ways to systematically investigate the risks existing in the work environment. Adapt these ways to your operations. You can, for example, gather information in cooperation through carrying out a dialogue about risky working conditions and working demands in the daily activities. The investigation can occur within the framework of different meeting forms such as:
staff dialogue
workplace meets
working group meetings
safety committee meetings
management meetings.
Special questionnaire surveys where staff have the possibility of being anonymous can give valuable information about their experiences of shortcoming for example stress and the causes of it.
In most cases, imbalance and stress arises through the interplay of several risks and stress factors. It is more unusual that work-related stress depends upon individual conditions or one particular factor.
Examples of conditions that can give rise to stress:
Demands
Unclear expectations about work efforts
Stress generated by the risk of threats and violence
Demanding contact with clients, customers, family and more
Demands generated by difficult-to-use IT systems
Heavy workload.
Deficient resources
Lack of support from managers
Lack of support from colleagues
Insufficient knowledge
Insufficient time, personnel or technical assistance
Unclear powers.
All employees at a work place are not normally subjected to the same stress-related conditions. Risk conditions can differ between different occupations, work groups and functions. It is about weighing up the differences during a compilation of the results of the investigation in order to facilitate the identifying of common causes of stress and creating suitable measures to fix them.
2. Assess the risks
Assess how serious the risks that have been identified through the investigation are. The aim is to decide whether measures are necessary.
3. Fix the risks, write an action plan
One can seldom simply identify a suitable measure. In order to take the right steps it is necessary to investigate which organisational measures are appropriate. Investigate and carry out measures in consultation with the affected employees. In this way, measures can be designed and adapted so that the right measures can be taken and the implementation can be effective.
Fix risks immediately where possible, and write down what has been done. If this is not possible, make an action plan which contains the following:
the risks that exist
what should be done
who should do it
when it should be finished.
If the risk assessment has shown that there are many problems, it is neither comforting nor effective to patch things up at symptom-level. Different types of individual measures that aim at, for example, helping employees deal with stress, help some but do not get at what is causing and giving rise to work-related stress. Measures that entail improvements for some, must not at the same time lead to worse situations for others. For certain measures decision at higher management levels or by highest management can be required.
Examples of measures to reduce work-related stress:
clear working tasks and roles
reduced amount of work
help prioritising the work
increased staffing
time for recovery and reflection
education drives
improved possibilities for cooperation.
These are just a few examples of measures for reducing the demands and increasing the resources. Appropriate measures are those that get at the causes of the risks you have identified in your organisation.
4. Check that the measures have worked
It is important to check all measures carried out and take a position as to whether they are sufficient, or if other or further measures are necessary. If the planned measures have not been carried out, you need to find out why and find a functioning solution. Adjust the action plan where necessary.
The steps in the systematic work environment management need to be gone through regularly and also when there are changes in the operations.
Definitions of demands and resources in the work
Demands are the aspects of the work that demand long-term physical or mental effort.
Resources are the aspects of the work that serve the purpose of reaching the goal for the work or reducing the demands in the work.